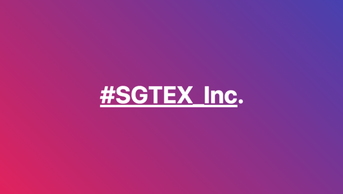 Together building success

SGTEX Inc. is a reliable business partner to customers globally in many industries. We are building together with our customers a long term partnership and aim to contribute significantly to their success through different business segments.

Our mission:
SGTEX Inc. established as a global company mostly focused in mining and metals industries. But we also provide solutions and services to other industries and companies. Our mission is to partner with our customers globally to deliver solutions for improving our customers' cash flow, productivity and profitability.

Our values:
Our business will be aligned with our values :
Safety before all other business aspects.
Environment impact of our business.
Customer success is our first priority.

Our believes:
Diversity is a corner stone for a successful team.
Learning, improvement and success has no limits and it is a life journey.
Leader success is measured by building better new leaders through her/his leadership.
Consultation is art of listening, analyzing and engagement with team of experts to find together improvement solution.

Our business segments are:
Consultation: for industries including mining, metals, industrial globally.
Technology: offered for different applications require gas/mass flow control.
Leadership: offer Hiring, Executive search, human capital, management and leadership.
Investment: offer VC, PE, M&A through a global network of investors and investment opportunities.
Trading: Plants equipments, commodities, minerals and others.

Our history and background:
"Steel Global Technology - SGTEX Inc." is a global business oriented.
Reasons behind our name are:
Firstly we consider business with different industries including mining and metals.
Secondly our professionals have an extended global knowledge in our five business segments.
Finally SGTEX Inc. management team have been working for many years in different roles, industries worldwide.


SGTEX Inc.
Hour : Monday - Friday 8 am - 5 pm Eastern standard time (Toronto, Canada).
Address : 23 Landwood Ave.,Thornhill , ON, Canada, L4J 0B9
E-mails:
For general info
info@sgtexinc.com
For FC Technik and technology
aksana.nahainik@sgtexinc.com
For Investment and PE,VC,Funds
ceo@sgtexinc.com
For Leadership, management courses
aksana.nahainik@sgtexinc.com
For resumes, employment, and HR
hr@sgtexinc.com
Social Media:
LI :
https://www.linkedin.com/company/sgtex-inc-/
FB :
https://www.facebook.com/SGTEXInc/
IG :
https://www.instagram.com/sgtex_inc/
​