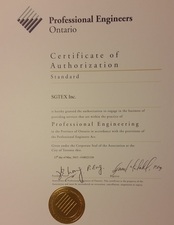 We are proud to be certified by professional Engineers Ontario (Canada)
​

Mining and metals plants and groups profitability improvement.

We build partnership with our customers based on "thinking future? Think differently. Think innovation". We partner with production and management teams to explore the unlimited opportunities in mining and metals for continuous improvement.
For steel plants, our consultants areas of expertise:

+ Commission and start up plants.
+ Process improvement for steel plants.
+ Optimization for steel plant productivity.
+ Off site consultation offer virtually by phone.
+ Technical advising for start-up new steel plants.
+ Energy saving for steel plants based on EAF and BOF.
+ Refractory optimization and performance improvement.
+ Overall steel plants and steel group profitability improvement.
+ On site projects with steel plants teams to improve the overall process.
+ Technical training and workshops for all levels within steel production group.


Projects Examples:

Start-up steel plants
Our capabilities include start-up of different steel plants in many ways like offering knowledge, operation management to full start up.

Different steel plants full refractory packages
Our team past knowledge; full refractory packages were offered to different steel groups in North America (e.g. Gerdau, Nucor, ArcelorMittal, and CMC). The main refractory concepts were to improve steel plants productivity and profitability. Technical audits were conducted prior offering refractory packages.

Energy saving for 2.5+ million ton EAF steel plant
One of the top worldwide steel producer: 2.5+ Million metric ton steel plant with 2 EAF, saving 50+ F on the EAF bottom shell temp and result in a significant saving KWH per year. The project saved couple of millions USD in steel production cost.

Steel plant refractory optimization
Ladle working lining refractory consumption optimization for 6 Million metric ton Middle East steel producer. The project saved 31% during 3 years period. That is a World's Best Practice for average monthly refractory consumption (6 kg refractory/ton include all steel plant refractory).

SGTEX Inc. consultants worked with almost all steel production groups globally for more than 25 years in areas like OEM for steel plants, design and build steel plants, start up, modernization of steel plant, management, operation, optimization, cost reduction, feasibility study, market research, training for steel plants teams, steel groups productivity and profitability improvement and others.


SGTEX Inc. proud of our customers partnership:
​